Overview
Ox Car Care defines its business as having plans to protect every driver during an unexpected breakdown, regardless of the type of vehicle you own. In fact, Ox Car Care touts covering over 1 million vehicles while aiming to deliver "an amazing experience" for every customer and their investment. And while the company expresses its commitment to providing reliable and affordable vehicle protection, what do the customers say?
Company Accolades
COMPANY FACTS
The Headquarter Location for Ox Car Care:
4 Park Plz Ste 500, Irvine, CA 92614-5209
KEY FEATURES
BBB Accredited
Transferable warranties
Salvage or branded car warranty options
Option to choose your own ASE Certified mechanic
Flexible payment terms
30-day risk-free period to review the coverage
BENEFITS
Car rental benefits of up to $40 a day, pending qualifications
Courtesy Towing
Roadside Assistance 24/7
Free oil changes, tire rotations, and alignment checks
Rental car/reimbursement services are subject to contract terms & conditions.
DOWNFALLS
Administrators are independent third-parties
Customers cannot file claims online
Various website links and social media pages are inactive
Expert Review
Picking an extended auto warranty can be confusing when so many providers and varying levels of coverage are available. But when it comes down to choosing the company that fits your needs best, the policy, pricing, and reliability will likely be the deciding factors . One of the best ways to discern if a company's customer service truly stands by its principles is by assessing other customers' experiences.
Overall Impression
As a newer BBB accredited business (2018), Ox Car Care states its focus is to protect customers from high car repair costs and streamline the repair process. Customers receive 24-hour emergency roadside assistance and towing services, emergency fluid delivery, flat tire assistance, dead battery jump-starts, and lockout services with each plan. But let's see what each Ox Car Care plan offers and what the customer reviews say.
Purchase
Ox Car Care offers three different plans to help accommodate their customers' budgets: diamond, platinum, and gold. Sample contracts for all three policies list a $100 deductible.
The Diamond Plan
Ox Car Care touts this plan as its best and most popular, delivering the highest level of listed parts coverage. It covers all major components and additional parts while stating that it is ideal for newer vehicles and is comparable to new car manufacturer warranties. Examples of items that are covered include parts for:
Gas/diesel engines
Rotary engines
Transmission
Transfer case
Drive axles
Seals and gaskets
A/C
Steering
Brakes
Fuel system
Cooling system
Suspension
Anti-lock brakes
The Platinum Plan
Ox Car Care lists the Platinum plan as a comprehensive, full coverage policy that will help protect vehicle components prone to needing more repairs than others, including:
Engine
Transmission
A/C
Electrical system
Starter
Water pump
Fuel pump
The Gold Plan
This vehicle service contract (VSC) is an all-inclusive, full coverage program that customers can customize to cover major and minor vehicle parts. The Gold Plan covers components for the following:
Engine
Transmission
Water pump
Alternator
Starter
A/C
Power windows
Ox Car Care Warranty: What It Doesn't Cover
According to the sample contracts, there are several things that the Ox Car Care warranties do not cover. These include motor tune-ups, and maintenance items like filter changes and fluid refills are not included unless required to repair a covered component or part. Also, pre-existing conditions are not covered, as well as fasteners, hardware, connections, bolts, nuts, and screws that fail or loosen.
Additionally, Ox Car Care will deny any claims they receive after 60 days from the authorization date. Therefore, referring to the details of your specific contract is critical to ensure you are aware of what is and is not covered.
Post-sale
Warranty Reviews: What Customers Say
While Ox Car Care is a newer business that started in 2018, its website details several positive online reviews throughout the past few years. Furthermore, Ox Car Care holds an A+ rating on their BBB business profile and a 4.04/5 customer review rating. But even though the business states its coverage saves customers thousands of dollars by protecting them from inflated maintenance bills, what the customers have to say is just as noteworthy. Let's see what the reviews say.
The Good
Several 5-star reviews on the BBB and Ox Car Care websites indicate excellent service during the initial warranty purchase process. In addition, there are many reports of customers saving thousands of dollars on repair costs, particularly for A/C, radiator, and transmission repairs. Overall, customers note satisfaction with customer service for filing claims, the efficiency of the payment process, flexible payment plans, affordable policy options, and low deductibles.
The Average
Very few BBB reviews fall within an average rating. The ones that do list disappointment over the time it took to approve a claim.
The Negative
While there are many 5-star ratings listed on the BBB website, there are also 1-star reviews. The majority mention problems with honoring claims, receiving refunds, and canceling services. However, Ox Car Care customer services representatives provide explanations and clarifications to most negative reviews, offering insight into the problem at hand. Examples of issues include:
Customer misunderstanding due to not thoroughly reading their contract;
Policies not covering pre-existing conditions; and
The length of wait time for receiving reimbursement.
Other Breakdown Coverage Options
When selecting a vehicle protection plan, researching companies and exploring your options is the most practical step you can take. Always read reviews, ask friends or family members for referrals, and see if the company is Better Business Bureau (BBB) accredited. But before you sign anything, read the policy's details thoroughly to better understand what the plan covers and what it does not. The best plan you can get is the one that provides the coverage you need at an affordable cost and is proven to be trustworthy.
Finally, be aware of spam callers trying to sell you extended car warranties. Never disclose your personal information—social security or driver's license number, bank account information, etc.—over the phone. Instead, consider our top extended warranty providers to explore reliable coverage options and ask for a free quote to get started.

Pentagon Federal Credit Union (PenFed) is a federally insured financial institution established in 1935. Initially, membership was only open to military and civilian government employees and their families. Today, PenFed is serving over 2.5 million...
Read More
PenFed Credit Union provides online services for credit union members to determine Route 66 extended car warranty eligibility
Offers transparency by including sample Route 66 contracts and policy costs on its website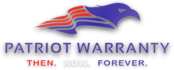 Established in 2007, Patriot Warranty describes its business as providing the highest-rated comprehensive coverage in the industry at the most competitive prices. It also guarantees the highest level of customer service, with the goal of...
Read More
Accepted at all dealerships and ASE Certified repair centers
Coverage administered directly by Patriot Warranty
Designated ASE Certified technicians on staff

Wynn's provides many basic vehicle protection contracts for newer vehicles with up to 120,000 miles. One of the most unique things about Wynn's Warranty is that they offer specific coverage for diesel vehicles.
Simplicity of signup
All coverage options are transferable
Accepted by most dealerships and any certified mechanic, will work with any local mechanic