Overview
ProGuard offers an expansive menu of new and pre-owned vehicle protection plans through their nationwide network of dealer partners. The company was chosen by Pep Boys as a preferred vehicle service contract provider.
Company Accolades
COMPANY FACTS
Headquarter Location:
407 McAlpine Street
Avoca, PA 18641
KEY FEATURES
Accepted by most dealerships and any certified mechanic, will work with any local mechanic
Endorsed by the Independent Automobile Dealer Associations
Affordable prices
Pay the repair facility directly
BENEFITS
24/7 roadside assistance
Day one coverage
DOWNFALLS
Doesn't cover general maintenance
Not VPA Certified

Pentagon Federal Credit Union (PenFed) is a federally insured financial institution established in 1935. Initially, membership was only open to military and civilian government employees and their families. Today, PenFed is serving over 2.5 million...
Read More
PenFed Credit Union provides online services for credit union members to determine Route 66 extended car warranty eligibility
Offers transparency by including sample Route 66 contracts and policy costs on its website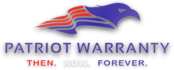 Established in 2007, Patriot Warranty describes its business as providing the highest-rated comprehensive coverage in the industry at the most competitive prices. It also guarantees the highest level of customer service, with the goal of...
Read More
Accepted at all dealerships and ASE Certified repair centers
Coverage administered directly by Patriot Warranty
Designated ASE Certified technicians on staff

Wynn's provides many basic vehicle protection contracts for newer vehicles with up to 120,000 miles. One of the most unique things about Wynn's Warranty is that they offer specific coverage for diesel vehicles.
Simplicity of signup
All coverage options are transferable
Accepted by most dealerships and any certified mechanic, will work with any local mechanic