Overview
Of all the extended auto warranty providers we've reviewed, Endurance is the best choice for auto protection plans. Endurance is the direct administrator of their extended auto warranties – which means they sell directly to you, the consumer. Because of this, Endurance provides more affordable options without the use of a middle man like an auto dealer or reseller. Also, as the direct administrator, that means you will work with the same company to purchase your warranty and file claims. For 15 years, Endurance has been the #1 trusted expert in vehicle protection – providing plans tailored to your needs and budget, such as affordable options for high mileage and older vehicles. With an Endurance extended warranty, you gain peace of mind by knowing you're protected with the most comprehensive packages in the market.
Company Accolades
COMPANY FACTS
Headquarters:
400 Skokie Blvd. Suite 105 
 Northbrook, IL 60062
KEY FEATURES
Direct Administrator of Claims
Unlimited Miles for Vehicles Under 20 Years Old
Plan Including Maintenance
1-Year FREE Endurance Elite Benefits
30-day Money-back guarantee
BENEFITS
Long-term payment plans up to 36 months
24/7 roadside assistance
Plans are transferable if you sell your car
Auto Advocate team of mechanics
$2,000+ in added benefits from Endurance Elite
DOWNFALLS
Agents are very persistent until you sign up
App is confusing and hard to navigate
Expert Review
Endurance has been a big player in the extended warranty game for quite some time, and it shows. We've seen a lot of Endurance Warranty reviews online, but wanted to check on our own. From the first call through to purchasing and the claims process, every employee we talked to was able to answer just about any question we could throw at them. And, on the rare occasion that they couldn't, they immediately connected us with someone who could. Since Endurance is their own administrator, everyone has to know their stuff inside and out. After all, they're the ones processing the claims. Being an administrator also means they have a bit more flexibility than a lot of their competitors: Endurance has a variety of plans to choose from, covering just about every vehicle and budget. In fact, the sales team was willing and able to accommodate our monthly budget by letting us spread payments over 12, 24, or even 36 months.
No matter which plans you choose, if you go with Endurance, every plan comes with a free year of Endurance Elite. None of the other competitors in this field are offering anything like Endurance Elite right now, and it's one of the reasons that we've ranked Endurance Warranty so high. The total value of a year of the Elite program is at least $2,000. That means, bang for your buck-wise, Endurance outclasses comparable services by a long shot. 
Here are all of the perks of the Elite program, broken down:
Key Fob Replacement: They'll replace lost and broken key fobs up to a maximum value of $500.

Complete Tire Coverage: Elite members get up to two tires per year repaired or, if necessary, replaced, with an individual value per tire up to $125 ($250 total). Worth noting, however, that this only applies to tires damaged by road hazards.

Roadside Assistance: This is a big one since it's something a lot of us pay for separately. Endurance Elite includes 24/7 roadside help in the case of a breakdown. And, again, a year of Elite is included free with any extended warranty plan.

Endurance Protect App: Last one! The app is meant to be an easy way to track your benefits and rewards, connect with customer service, and request roadside assistance. That said, on further inspection, we found it to be less than intuitive. But we'll get to that later.
All of this is to say, the Elite membership was what tipped Endurance over the edge for our top pick. We loved these extra benefits because they eliminate the need to pay for extra services like AAA to protect you during a breakdown, and they just provide so much additional value. In the long run, pretty much every company we tested offered roughly comparable coverage with prices largely equal to or higher than Endurance, but no one else had anything even close to Endurance Elite when it comes to added benefit and value. For us, Endurance goes above and beyond just a solid extended auto warranty, while also being high quality and affordable option just for your warranty needs. Comparable prices, but with way better benefits – what's not to like?
The claims process was simple enough to figure out. But, what we really loved about their claims department (not a sentence we ever thought we'd say) was their easily accessible customer service and, in particular, the "Auto Advocate Team." Essentially, Endurance has a team of ex-mechanics on staff, and that team speaks directly to the mechanic working on your vehicle when you go into a shop with a problem. This is a great asset if you're the type of person that tends to get taken advantage of in a shop or just doesn't know too much about the ins and outs of cars. They can assess what's actually necessary and they know about standard pricing, so they can help make sure you don't pay more than you should or for add-ons you don't need. Plus, Endurance is one of the companies that pay the mechanic directly rather than having you pay out of pocket then reimbursing you, which is a huge plus when it comes to claims. 
OVERALL IMPRESSION
Overall, Endurance is definitely one of our front runners – probably our number one choice overall. They have extensive coverage options for a wide variety of budgets, and Endurance Elite is a huge benefit you won't find anywhere else. You can also find a lot of great Endurance Warranty reviews. The sales associates are responsive, we loved the Auto Advocate Team, and the claims process is as pain-free as you are going to get – though not totally pain-free. (It's still a cousin of the insurance industry, after all.)
Initial Call
We filled out a form online and received an email pretty much immediately saying that someone would give us a call. Within 30 minutes, we were contacted by an Endurance sales agent. The first call was with a representative named Nayob, and it was clear from the get-go that she knew her stuff. She was even familiar with the typical problems associated with the vehicle we chose to use for this review. (For the record, we used a 2013 four-door BMW 328xi with 45,000 miles on it for the purposes of this review.) Nayob was kind and informative, answered our questions easily and immediately, and didn't give us a hard sell at all. When we asked for time to think about it, she was understanding and gave us her direct line to call. No wonder they have great Endurance Warranty reviews.
We did receive a few emails from Endurance between our first call and moving forward with the purchase, but we didn't find them to be excessive. The follow-up emails were all informative, focusing on the benefits of their plans and of Elite membership, still nothing too pushy.

Pentagon Federal Credit Union (PenFed) is a federally insured financial institution established in 1935. Initially, membership was only open to military and civilian government employees and their families. Today, PenFed is serving over 2.5 million...
Read More
PenFed Credit Union provides online services for credit union members to determine Route 66 extended car warranty eligibility
Offers transparency by including sample Route 66 contracts and policy costs on its website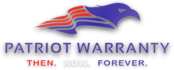 Established in 2007, Patriot Warranty describes its business as providing the highest-rated comprehensive coverage in the industry at the most competitive prices. It also guarantees the highest level of customer service, with the goal of...
Read More
Accepted at all dealerships and ASE Certified repair centers
Coverage administered directly by Patriot Warranty
Designated ASE Certified technicians on staff

Wynn's provides many basic vehicle protection contracts for newer vehicles with up to 120,000 miles. One of the most unique things about Wynn's Warranty is that they offer specific coverage for diesel vehicles.
Simplicity of signup
All coverage options are transferable
Accepted by most dealerships and any certified mechanic, will work with any local mechanic