Overview
A digital-first warranty provider, Olive is certainly more tech-savvy than some of its competitors. However, unlike some major warranty providers, Olive doesn't cover things like general maintenance costs.
Company Accolades
COMPANY FACTS
Headquarter Location:
1981 N. Broadway Suite 210A Walnut Creek, CA
KEY FEATURES
Simplicity of signup
Rental car benefits
Accepted by most dealerships and any certified mechanic, will work with any local mechanic
Affordable prices
BENEFITS
24/7 roadside assistance
No wait times on calls
DOWNFALLS
Doesn't cover general maintenance
Not VPA Certified
Expert Review
Knowing which extended auto warranty to go with can be a tough decision. After all, there are a ton of different factors to consider. Questions regarding what's the cost, the coverage, and when's the best time to buy are all top of mind when shopping for protection.
Your first stop when considering a specific protection program should always be customer reviews, claims process, and what they offer. By hearing what other people have to say from experience, you can make a more informed decision on what's right for you and your vehicle.
OVERALL IMPRESSION
One of the newest contenders in the US auto warranty market, Olive is a name that's coming up more and more in vehicle service contract conversations. Let's take a look at what Olive car warranty covers, what people are saying, and information you need to know.
Purchase
A digital-first warranty provider, Olive is certainly more tech-savvy than some of its competitors. But is its offering as forward-thinking?
Olive warranties come in three distinct packages: powertrain, powertrain plus, and complete care:
Olive Powertrain
Olive's basic Powertrain extended warranty covers the most expensive parts of your drivetrain, including every lubricated part of your transmission and engine. This also extends to water and oil pumps, thermostats, and even factory turbochargers.
Olive Powertrain Plus
Powertrain Plus takes the regular Powertrain coverage to the next level, adding on other parts such as power steering, front suspension, brakes, and air conditioning.
Olive Complete Care
Complete Care is Olive's most comprehensive offering, covering your powertrain and almost everything else. The only exclusions are a few wear and tear items like your tires and windshield wipers.
Olive Warranty: What It Doesn't Cover
Unlike some major warranty providers, Olive doesn't cover things like general maintenance costs. Although their coverage plans do cover the cost of towing up to 100 miles, this excludes roadside assistance which leaves you responsible for contacting a provider and getting the help you need. In their words, they're "here for the big stuff", and the big stuff only.
Also, if your car is over 10 model years old, has travelled more than 140,000 miles, or has a pre-existing condition (whether known or unknown), it's unfortunately not eligible for coverage from Olive.
Membership
Olive vs Other Warranties
So, how does Olive stack up to the rest of America's top warranty providers? Putting them side by side should help us get a better picture:
Coverage Comparison
Good for:
Fully comprehensive cover

age

 

Digital-first approach

 

Three coverage levels

 

Custom pricing based on needs and vehicle

 

Co

vers towing costs up to 100

 miles

 

Pick your own deductible

 

High-mileage vehicles covered
Not good for:
Lit

tle coverage flexibility

 

No maintenance coverage

 

No option to cover wear and tear components

 

No additional perks or benefits

 
Good for:
Fully comprehensive cover

age

 

Personalized coverage for all 

 

Unrivalled eligibility

 

Coverage for high-mileage vehicles (including rideshare drivers

 

with

 

Endurance

 

Advantage

™

)

 

Roadside assistance, trip-interruption costs and replacement travel included with all plans

 

U

p to 

$3,500 in maintenance 

coverage with select plans

 

Endurance Elite Membership

 
Not good for:
Backup cameras and other tech must be added to plans as extras

 

Some wear and tear components excluded
Good for:
Factory-level comprehensive coverage

 

Around seven levels depending on your vehicle and needs

 

Low or $0 deductibles

 

Roadside assistance, courtesy towing, and replacement travel included with most plans

 

Coverage for high-mileage cars
Not good for:
Short list of benefits

 

No maintenance coverage

 

Slightly lower customer service score than competitors

 
Good for:
Five levels of coverage, from comprehensive to powertrain

 

Roadside assistance, gas delivery, and trip-interruption services included

 

Lost key/lockout services

 

Choice of licensed auto shop for repairs

 

Option to take out an insured plan

 

Coverage for high-mileage cars

 
Not good for:
No maintenance coverage

 

No option to include wear and tear components

 

No explicit information on high-mileage cars
Benefits Comparison Table
We may have mentioned some of the benefits above, but it really helps to lay them out. Who offers the best perks, and how do Olive compare?
Post-sale
Olive Car Warranty Reviews: What They Say
Despite not having been around for long, you can already find quite a few Olive reviews online. They have a 4.6/5 on ConsumerAffairs, but what are the overall sentiments?
The Good
The vast majority of Olive reviews are 4 or 5 stars, which is great news for prospective buyers. Most talk about the simplicity of signup, the reasonable cost of their warranty, the friendliness of the customer service reps, and the level of coverage received.
The Average
The most average Olive reviews are more around pricing issues or misunderstandings than actual problems with their service. Some people aren't happy with a small change in their car's mileage pushing them into a higher price bracket, others simply read the terms wrong. In any case, they're still happy with their service contracts, and that's what's important here.
The Negative
There aren't many terrible Olive reviews, but the worst of them generally mention one-off issues like incorrect charges, or the fact that unknown pre-existing conditions weren't covered. In the case of the incorrect charges, Olive appears to have fixed them swiftly, and they explicitly mention the terms around pre-existing conditions on their website, so we can't really blame them for this either.
Find the coverage that works for you
So, Olive seems to be a safe bet, but that doesn't necessarily mean they're the right provider for your vehicle or needs. Whether your car is new or used, a BMW or a Mercedes, it's always super important to thoroughly research all the options available to you and compare quotes from the top contenders.
Now you know what customers think, take a look at our reviews of the country's most popular extended warranty providers. We've got all the information you need to find your perfect protection plan.

Pentagon Federal Credit Union (PenFed) is a federally insured financial institution established in 1935. Initially, membership was only open to military and civilian government employees and their families. Today, PenFed is serving over 2.5 million...
Read More
PenFed Credit Union provides online services for credit union members to determine Route 66 extended car warranty eligibility
Offers transparency by including sample Route 66 contracts and policy costs on its website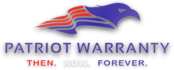 Established in 2007, Patriot Warranty describes its business as providing the highest-rated comprehensive coverage in the industry at the most competitive prices. It also guarantees the highest level of customer service, with the goal of...
Read More
Accepted at all dealerships and ASE Certified repair centers
Coverage administered directly by Patriot Warranty
Designated ASE Certified technicians on staff

Wynn's provides many basic vehicle protection contracts for newer vehicles with up to 120,000 miles. One of the most unique things about Wynn's Warranty is that they offer specific coverage for diesel vehicles.
Simplicity of signup
All coverage options are transferable
Accepted by most dealerships and any certified mechanic, will work with any local mechanic