After a long winter of chilly temperatures and shorter days, taking a road trip to explore the great outdoors may be on your to-do list this spring or summer. After all, unwinding from everyday stressors helps rejuvenate the body, reduce anxiety and increase mindfulness and productivity.
Whether your sights are set on a beach stop or something more woodsy, you can plan your adventure with ease using an app on your phone while also enjoying a few added perks. Let's take a look at some of the most favored road-tripping apps and how each one may be a helpful resource as you plan your next getaway.
5 Best Travel Apps to Start Your Adventure
Google Maps
Using a navigation app on your phone is a great way to prepare for a road trip by helping you check traffic conditions before and during your trip. Just open the Google Maps app and choose your destination to receive real-time updates. Learn how long it will take to get where you're going or select alternative routes to avoid delays and toll booths.
The user-friendly app also lets you map out your route ahead of time. So if you want to check out destinations like nearby stores, restaurants, hotels, gas stations, or coffee shops along the way, you can plan your stops ahead of time. Google Maps includes satellite imagery, aerial photography, and street maps, giving you a more detailed look at your destination, and is available on both iOS and Android.
Roadtrippers
As one of the most highly rated and preferred apps for trekking by car, Roadtrippers can map out the best travel route options for your journey. When you enter your start and end destination points, the app will list potential attractions, parks, hotels, and restaurants to stop and see along the way. All you have to do is choose the route that works best for you.
Although the app is free, paying subscribers can enjoy additional benefits like custom map styles, collaboration options for traveling with friends, and offline maps. Roadtrippers Plus is available for $29.99 a year and can be downloaded to your iOS or Android device.
Roadside America
If your goal is to create an unforgettable experience as you travel across the country, then Roadside America might be one of the best travel apps for you. The app's main objective is to ensure users have fun by finding unique attractions, such as notable gravesites, quirky theme parks, and unnatural wonders throughout their travels. You can even plan your adventure by theme—i.e., music, celebrity, crime, etc.
Are you traveling with a buddy? Keep your conversations going by listening to Roadside America authors' amusing stories and helpful eyewitness tips from other travelers. The app is only available to iOS users and costs $2.99 with extra in-app purchases.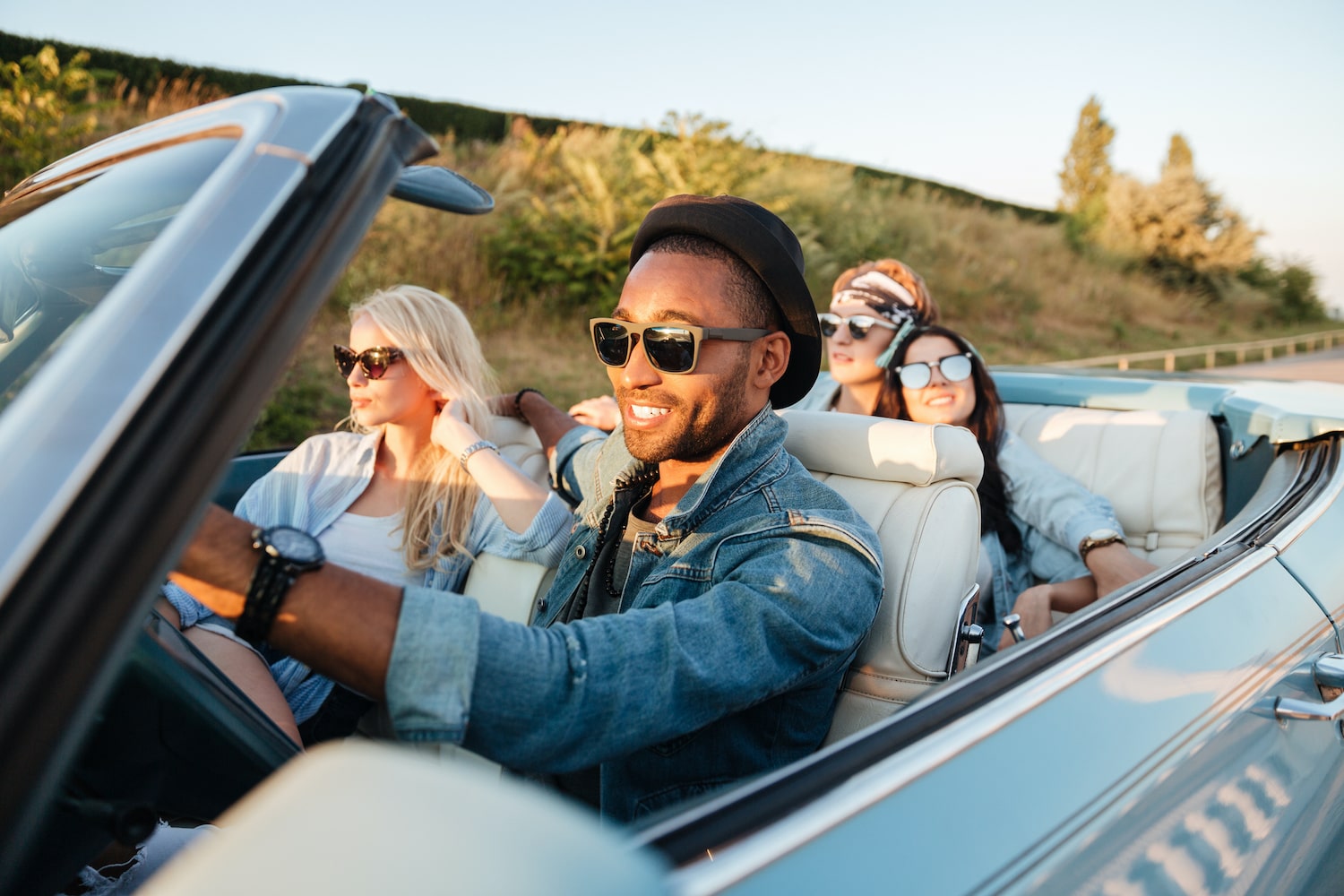 GET AN EXTENDED WARRANTY FOR YOUR CAR!
Want to protect yourself from pricey auto repairs?
Let us help you find the right extended car warranty company and coverage plan for your vehicle!
Get Pricing
GasBuddy
One of the most significant expenses you'll face as a car owner is refilling your gas tank. Unfortunately, the cost of a gallon of gas can fluctuate greatly depending on current events, so budgeting out enough for gas during a road trip can be easier said than done. But with the GasBuddy app, you can search for the closest gas stations before your gas light turns on. It even directs you to the lowest prices to help you stay within your budget.
GasBuddy offers a free GasBuddy card, so you "never pay full price at the pump again." Additionally, you can track your driving habits to help use less gas and complete app challenges to earn points for daily gas card drawings. The app is available to iOS and Android users.
HotelTonight
When you're on the road trying to reach your destination, you might overestimate your driving stamina and need to pull over for a break sooner than expected. But with HotelTonight, you don't have to worry about finding a great hotel or the best rates to get the rest you need. The app does the work for you! With a user-friendly interface, you can find day-of deals and book a discounted room at a top-rated hotel or unique boutique at a moment's notice. The HotelTonight app is free to users and available on iOS and Android.
Prepare for Your Trip Before Hitting the Open Road
Whether you're taking a solo road trip or heading out with family or friends, safety should always be your top priority. Ensure your vehicle is in tip-top shape by getting a tune-up before leaving for your adventure. Schedule an appointment with your auto shop to have your certified mechanic change your oil and inspect your brakes, tires, battery, and cooling system. While there, also ask about your car's warranty status. The last thing you want is to have your exciting journey turn sour because your car breaks down on a busy highway.
If your factory warranty has lapsed, buying extended breakdown coverage would be a valuable investment. A solid policy with 24/7 roadside assistance, gas delivery, and lockout services can give you peace of mind wherever the road leads you. Review our extended warranty buying guide to find the best policy for your budget and vehicle as you begin planning your next great adventure.