Overview
While Protect My Car, commonly referred to as Protect or PMC, did have some nice benefits, we ultimately found their offering to be substandard relative to their asking price. Though we greatly enjoyed speaking with one of their 'budgeting managers,' in the end, PMC's quote on their top tier of service was almost twice that of other comparable offerings from higher ranked companies. While a high price tag is their biggest downside, their upsides are that they are an administrator – meaning they process their own claims – so you're not paying extra for a middle man's fees, and they offer payment plans of up to 48 months – the longest we've seen in the extended auto warranty industry.
Company Accolades
COMPANY FACTS
Headquarter Location:
570 Carillon Pkwy St. Petersburg, FL 33716
KEY FEATURES
30-day money back guarantee
Ambassador Maintenance Plans provide added benefits if you choose to buy in
Plans administered directly by PMC
Accepted by most dealerships and any certified mechanic
BENEFITS
24/7 roadside assistance
Plans are transferable if you sell your car
Longest term payment plans in the business
Ambassador Maintenance Policies (similar to Endurance Elite) provide additional benefits if purchased
DOWNFALLS
Significantly higher than average prices
Claims and cancellation processes could be smoother
Expert Review
While not terrible or untrustworthy, Protect was not one of our favorite companies that we dealt with in this process. Their plans were roughly 75 to 80 percent more expensive than anyone else we looked at, and they were the only company where (sorry to say) the first representative we spoke to was clearly out of their depth when we started asking questions. That said, it's important to note that the person they transferred us to, someone a little further up the chain, was probably the singular kindest, most helpful, most knowledgeable representative we talked to in this whole process. So, you win some, you lose some.
That second representative we spoke with did make some salient points about the higher cost: PMC probably offers the most comprehensive "bumper-to-bumper" coverage of any of the companies we dealt with. That said, we did not find the added coverage nor the extended 48-month payment plan option to be enough to outweigh the obvious downside of paying almost twice what we were quoted at other companies for their equivalent top tier service.
That said, Protect does offer a benefit plan if you're looking for coverage that goes the extra mile. While not quite as robust or exciting (or free, at least for one year) as the Endurance Elite program, they did stand out as one of the few companies that set extra benefits apart and offered them at just about every level of coverage, rather than only giving benefits as part of their highest tier plans. This set of additional benefits, called the Ambassador Policies or Ambassador Maintenance Plans, include:
Discounts up to 50% on repairs

Free oil changes & tire rotations when recommended by your car's manufacturer

Guaranteed 24-7-365 roadside assistance

Lockout services if you lock your keys in your car

Flat tire assistance

Rental car reimbursements up to $30 per day

Trip interruption up to $50 per day
You may notice than some of these were simply offered as part of the upper tier plans we purchased from other companies, but some – like the discounted repairs – were unique, and it's nice to retain the option if you're otherwise opting for a slightly less opulent plan.
The claims process is not explained on their website, but it does seem that they pay mechanics directly rather than having you pay out of pocket, then get reimbursed. They simply instruct you to call in and they'll walk you through it. They call it a "no hassle" claims process, and it did seem pretty simple to us on further inspection, though it was hard to be sure without more solid information. Lastly, we did like that, as an administrator, they handle their own claims – and, given that they've been in business for over 15 years, they must be doing something right.
OVERALL IMPRESSION
In business for over 15 years, PMC is a sturdy, reliable option for an extended auto warranty and they do offer some perks. However, their pricing is, to be honest, prohibitively high relative to their competitors. This is especially true given that the service they offer is not significantly different. We liked their budgeting managers, who were kind and informative, and we felt the Ambassador Policies could provide worthwhile added benefit for those who may choose to go with Protect. However, in the end, it was not one of our top picks.
Initial Call
When we initially called PMC to discuss the possibility of buying a plan, the first person we spoke with was a junior representative named Charles McLemore. While Charles was nice enough, it quickly became clear that his function was not to answer in-depth questions. To his credit, when he realized we had a number of questions he couldn't answer, he transferred us to one of Protect's budgeting managers. The budgeting manager we spoke with was named Matt Mellquist, and he was probably the best informed representative we spoke to across all of our extended auto warranty trials and our personal favorite. He was able to answer each of our questions easily and really did his best to make a solid case for PMC, despite the high cost of their plans. He gave us a quote which – as many companies did – he told us was only good for one day.
He was unable to email us a copy of our quote, but he did take the time to send us a sample contract. PMC generally seems to have more opaque policies around sharing quotes, pricing, and plan details than some of their competitors, which was, unfortunately, another con – as much as we liked Matt. 
After that initial call, we did not receive any further emails (just the sample contract from Matt), but we did receive 2-3 follow-up phone calls before we called in to purchase.
Purchase
When we did call back, we followed a pretty standard process. We did not speak with Matt again but rather spoke to a member of the team that would finalize our purchase and set up billing. While not particularly difficult, the purchasing process was not exceptionally smooth or delightful, either. 
Here are all of the details of the plan we ended up selecting for testing:
"Supreme" plan (their top tier)

5-year warranty

30-day waiting period

48 month payment plan

One month down payment with a 30-day money back guarantee

$100 deductible

Trip interruption: $50/day for 3 days

Rental car reimbursement: $30/day
Since it was an additional cost over the already exceptionally high price to add on, we did not include an Ambassador Policy.
Membership
Nothing really blew our mind here. $50 per day trip interruption is fairly low, as is the rental car reimbursement, and their perks program is fairly limited, as much as they tout it on the Protect My Car website. Also, interestingly enough, to qualify for trip interruption, you had to be 150 miles from home, which is 50 miles more than most of their competitors.
We found their coverage to be surprisingly standard, given the high price tag. However, they do go a hair above and beyond with their "bumper-to-bumper" coverage, which does mean that, yes, even your bumpers are covered. They do administer their own claims, which is a plus, and they – like Concord – apparently pay claims off on company credit cards so that they can pay mechanics quickly and directly.
That said, again, they're the only company we tested other than Endurance that offers any sort of added benefit plan like their Ambassador Plans or Endurance Elite, and there is some added value there, if you're not turned off by the above average cost.
Claims
As mentioned above, they are – as with many things – less than forthcoming about their claims process. That said, they tout it as being hassle-free and easy, centered around simply calling a dedicated claims line. The claims team quickly dispatches a towing service to take you to your preferred licensed auto shop, and tells you what to do each step of the way. Which actually sounds kind of nice. It seems that, as with many of our top tier companies, once you get to the shop, the claims adjustor deals with the auto shop directly. They then pay the bill, minus your deductible (provided everything is covered, as with any plan).
It's important to note that, as with most insurance, they must give pre-approval on any repairs for the repairs to be covered.
Cancellation
At the end of the line, as with each of our tests, we went through the process of cancelling our contract with PMC. We made use of the 30-day money back guarantee and they honored it without issue. Our top tier plan allowed us to cancel by sending in a letter, but based on a click around their website, it seems that that's not the standard. They have a posted transfer or cancellation form – usable for either service – but, while the form says both, it is clearly focused more transferring than canceling. And through that form, we also learned that there's a $50 transfer fee, should you decide to transfer your extended auto warranty on selling your car. But hey, if you're already paying their high premiums, what's another $50?

Pentagon Federal Credit Union (PenFed) is a federally insured financial institution established in 1935. Initially, membership was only open to military and civilian government employees and their families. Today, PenFed is serving over 2.5 million...
Read More
PenFed Credit Union provides online services for credit union members to determine Route 66 extended car warranty eligibility
Offers transparency by including sample Route 66 contracts and policy costs on its website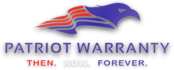 Established in 2007, Patriot Warranty describes its business as providing the highest-rated comprehensive coverage in the industry at the most competitive prices. It also guarantees the highest level of customer service, with the goal of...
Read More
Accepted at all dealerships and ASE Certified repair centers
Coverage administered directly by Patriot Warranty
Designated ASE Certified technicians on staff

Wynn's provides many basic vehicle protection contracts for newer vehicles with up to 120,000 miles. One of the most unique things about Wynn's Warranty is that they offer specific coverage for diesel vehicles.
Simplicity of signup
All coverage options are transferable
Accepted by most dealerships and any certified mechanic, will work with any local mechanic