Overview
EasyCare is an auto warranty company that has been in business for 31-years, servicing more than 7-million customers during their years of business. Founded in 1984, EasyCare primarily provides extended car warranties but also extends their coverage offerings to paint and dent repair, key replacement coverage, scheduled maintenance, and more. Their extended warranty plans range from basic protection to full bumper-to-bumper coverage.
Company Accolades
COMPANY FACTS
Headquarter Location:
6010 Atlantic Boulevard Norcross, GA 30071
KEY FEATURES
Transferrable warranty
Rental car benefits
Accepted by most dealerships and any certified mechanic, will work with any local mechanic
Waiting period
BENEFITS
24/7 roadside assistance
No wait times on calls
DOWNFALLS
Not sold directly to consumers
No Online Chat Option
Not VPA Certified
Expert Review
EasyCare is an auto warranty company that has been in business for 31-years, servicing more than 7-million customers during their years of business.
Founded in 1984, EasyCare primarily provides extended car warranties but also extends their coverage offerings to paint and dent repair, key replacement coverage, scheduled maintenance, and more.
Their extended warranty plans range from basic protection to full bumper-to-bumper coverage.
OVERALL IMPRESSION
EasyCare offers a variety of products for owners of car, trucks, and SUVs. However, they also provide additional coverage plans for RV owners, commercial vehicle coverage, and DriverCare for drivers with leased vehicles. Please note that the following review is written solely for their auto warranty coverage and not their other ancillary products.
Purchase
EasyCare offers four different plan options that represent a tiered level of coverage. In ranking from lowest to highest coverage, the EasyCare plans offered are as follows: PowerCare, PrimaryCare, StatedCare, and TotalCare.  We will go into further detail regarding each plan and what it covers below.
PowerCare: A basic protection plan that covers the most expensive and most important parts of your vehicle. Commonly referred to as "powertrain coverage," this plan protects the "powertrain" of your vehicle, which includes the engine, transmission, and drive axle.
PrimaryCare: The level above PowerCare, this coverage contains all of the parts/components previously listed in the level before it with additional coverage added for important and necessary components. Repairs that will be covered with this coverage include the heating systems, braking systems, fuel and cooling compressors, and more.
StatedCare: The third level in EasyCare's tiered system is StatedCare, which covers all the components and parts featured in Power and PrimaryCare while extending it further to include higher-cost and high-tech components. These components include: high-tech and luxury electrical components, power steering and automated braking systems, power sensors, etc.
TotalCare: The highest level of coverage that EasyCare offers is their TotalCare option. This is the most popular coverage plan that EasyCare sells as they note on their website that 92% of their customers choose this policy. This is their full protection "bumper-to-bumper" warranty option that includes all levels of coverage before it and includes additional items such as steering, suspension, brake light switches, suspension systems, hood and trunk latches, headlamp motors, and many others.
While their TotalCare plan is labeled as their best option offered to drivers, we were surprised to see that it was not an exclusionary policy, which is widely considered the best auto warranty to purchase. An exclusionary policy is one that lists all the parts that are not listed for coverage, rather than what is covered because it protects that many items under the hood of your car. To list all of these individual parts and components would take so long, it is easier to just list what isn't covered because it is a much, much shorter list. Most extended auto warranty companies offer exclusionary coverage as their highest plan.
We also did not see any difference between the StatedCare and TotalCare options. When viewing the "Compare Coverage" page on their website, the checklist shows the exact same coverage terms for StatedCare as it does for TotalCare. Upon further research, we discovered that while there are differences between the two options, it is minimal at best. Drivers requesting quotes for these two auto warranties should pay careful attention to the price of each one and judge whether the increase will be worth it in the long-run.
Membership
Each policy that EasyCare offers lets the driver to customize it to their needs, allowing them to choose the deductible, length of coverage, and components covered. These plans also allow the driver to choose their own repair facility for needed repairs, but encourage drivers to go back to the dealership where the car was purchased whenever possible. Although some restrictions and/or fees apply, the majority of EasyCare warranties are transferable and renewable.
Roadside Assistance
Included with most of the plans that EasyCare offers is their policy holder benefits package. It is customary, if not standard, for car warranty companies to include additional program benefits such as Roadside Assistance, Towing Service, Trip Interruption Expenses, Rental Car Reimbursement, Wheel and Tire Hazard Coverage, and more.
While all EasyCare plans (Power, Primary, Stated, and Total) include 24/7 Roadside Assistance, Towing Reimbursement, and Rental Car Reimbursement, only StatedCare and TotalCare include Wheel & Tire Road Hazard Coverage and Trip Interruption Expense Reimbursement. If these two additional features are important to you as a driver, it may be worth the higher price that you will pay for these higher-level coverage plans.
Claims
Awards and Accreditation
EasyCare is a well-rated company that has a few very important awards and accreditations. However, we did find them to be lacking a few specific criteria which ultimately lowered their overall rating. EasyCare is the a MotorTrend Recommended Company, the only one in this industry to receive this award. They are also an A+ rated member of the Better Business Bureau, demonstrating an achievement of the highest letter grade awarded.
While these are two great accomplishments, we did notice these were the only mentions of awards or recognition for their service or products. They are most noticeably not gold-certified by the Vehicle Protection Association, nor silver or bronze-certified either. Through our research and investigation, we have found that they are not certified at all. However, we have been unable to reach a representative from the VPA confirming if they are currently in the process of certification or not.
Customer feedback is an important insight into a company, but because EasyCare's policies are not sold directly to consumers, there was a lack of customer testimonials available online outside of their customer submitted reviews featured on their page. Overall, we thought that a company with such a long time in business was somewhat lacking in this category for awards, recognition, and certification.
Customer Service
EasyCare has a great deal of resources for customers and non-customers to use. Their website features a wealth of information that gives drivers access to sample policies, informative frequently asked questions, and online help guides. Policyholders can use EasyCare's online access to check payment history, make account changes, and view their policy 24/7.
If an issue does arise, an EasyCare policyholder should have little issue reaching out to the company for a resolution. Featured on their website on the "Contact EasyCare" page is the company's phone numbers, office address, information e-mail address, support center office hours, and contact form for direct access. At the time of this review, however, there has no live chat feature, something that is almost customary.

Pentagon Federal Credit Union (PenFed) is a federally insured financial institution established in 1935. Initially, membership was only open to military and civilian government employees and their families. Today, PenFed is serving over 2.5 million...
Read More
PenFed Credit Union provides online services for credit union members to determine Route 66 extended car warranty eligibility
Offers transparency by including sample Route 66 contracts and policy costs on its website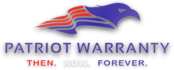 Established in 2007, Patriot Warranty describes its business as providing the highest-rated comprehensive coverage in the industry at the most competitive prices. It also guarantees the highest level of customer service, with the goal of...
Read More
Accepted at all dealerships and ASE Certified repair centers
Coverage administered directly by Patriot Warranty
Designated ASE Certified technicians on staff

Wynn's provides many basic vehicle protection contracts for newer vehicles with up to 120,000 miles. One of the most unique things about Wynn's Warranty is that they offer specific coverage for diesel vehicles.
Simplicity of signup
All coverage options are transferable
Accepted by most dealerships and any certified mechanic, will work with any local mechanic