Overview
Concord Auto Protect, which has been in business for the past 7 years, is an odd duck in the extended auto warranty field. Their customer service team is great, and they are one of the few companies that are their own administrator, meaning they handle claims directly, rather than resellers who sell contracts on behalf of the companies that administer claims. Unfortunately, Concord offers basically no payment plans whatsoever, requesting payment up front and in full if at all possible – and offering a 10% discount for those paying immediately and in full. Their payment plans stretch to only a few months and any plan requires managerial approval. In short, they have some upsides, to be sure, but come with one big downside.
Company Accolades
COMPANY FACTS
Headquarter Location:
1150 1st Ave # 501 King of Prussia, PA 19406
KEY FEATURES
30-day money back guarantee
Plans administered directly by Concord
Accepted by most dealerships and any certified mechanic, will work with any local mechanic
30-day wait period
BENEFITS
24/7 roadside assistance
Higher-than-average car rental reimbursements
No wait times on calls
Administers own claims, no middle men
DOWNFALLS
Almost no payment plans to speak of, payment in full expected within first three months of service
Technologically barebones
Plans max out at 60,000 miles
Expert Review
In some ways, we liked Concord Auto Protect. They didn't reach the upper echelons of our reviews simply because they don't seem to go the extra mile in terms of adding value to their services or beating out the competitors. However, they're definitely a solid option for a low-tech, simple, well-administered extended warranty, if you can pay the price. We love that they handle their own claims, offer 24/7 roadside assistance, and have something called their "Rapid Response System" that's intended to keep you from having to wait on hold or, especially, wait for approvals on car repairs. Their online presence and their team members create a sense that this is a small business.
And, when it comes to standard services, they can be a cut above. For example, we found their sales and customer service teams to be exceptionally kind and transparent, and we liked that their coverage is transferable. They even offer a pro-rated refund should you cancel your coverage. Concord offers a 30-day money back guarantee, and their rental car reimbursements max out at $75 per day, which is around twice what many of their competitors cover.
However, we were less than impressed by their payment plan options. This is not a service for unlined pockets, nor for high mileage, older cars. When we asked about payment plans, we were told that they could stretch payments out over 2 to 3 months at most, and would need to get approval to make that happen. We were encouraged to purchase up front and pay in full, with a 10% discount for those paying in full in one payment. The other option we were given, in terms of making their coverage more affordable, was to reduce the number of years of coverage. The possible plans were for: 
5 years or 60,000 miles

4 years or 48,000 miles

3 years or 36,000 miles
The price went down based on the number of years in the warranty, but honestly, not enough to make only 3 years of coverage worth it. The upside of this is that they don't charge interest on what payment programs they do offer, but their idea of a payment program seems to be quite different from other comparable providers. This is probably because they are an administrator and on the smaller side: upfront payments likely help them mitigate risk and reduce friction on collecting what's due.
And the service that they do offer is somewhat barebones. They man the phones, they administer claims – which is what you want from your extended auto warranty company – but they don't offer much in the way of perks. And, since most of the companies in this field offer roughly the same basic coverage and allow you to break payments up over as much as 4 years, it'd be nice to see some little perks or customer engagement. There's no app, no social media presence, no car maintenance resources, and contact is almost entirely made via phone call. But hey, if you're looking for an old school company with a small business feel and you have the smackeroos to pay for it upfront, this could still be a great option. Based on our experiences with their team and the fact that they administer their own claims, we wouldn't hesitate to recommend Concord Auto Protect as a solid option for the right consumer.
OVERALL IMPRESSION
In short, Concord Auto Protect is an administrator offering simple but solid service. We always prefer an administrator over a reseller, as buying your warranty directly helps save costs and cut out the middle man, plus it puts you directly in touch with the company that'll be handling your claims. Their biggest asset is their customer service team, and their biggest downside is their lack of long-term payment plans. No major flashy perks, apps, or extra resources here, but they seem like a perfectly fine company to work with if you're willing to pay upfront and don't mind phone calls. At least they won't spam your inbox.
Initial Call
Our initial call was with a representative named Gene (no last name given) who was an utter delight. He was upfront in answering our questions, easy to talk to, didn't use any high pressure sales tactics on us, and simply seemed to shoot straight. We really liked Gene, no ifs ands or buts. Gene talked us through our options (including the limited payment plan snag) and never once tried to equivocate or pull the wool over our eyes. When we said we needed time to think, he was kind and easy-going and didn't push us to make a decision on the spot.
We received no marketing emails from Concord Auto Protect at any time in the testing process. We did, however, receive a follow-up call from Gene in which he was, again, helpful and never too pushy. If you're one of those people that doesn't like to answer the phone, this may not be the company for you, but we weren't too bothered.
Purchase
Once we got in touch again with Gene to complete the purchase process, everything worked fairly simply. He had all of our info and our quote at the ready, and continued to provide a top quality of service. He took our card info himself and we were all set. Concord has only three tiers of coverage, so we went for the top level.
Here are all of the details of the plan we selected for testing:
"Premium" plan (their top tier)

5-year warranty or 60,000 miles

30-day waiting period

No payment plan, 10% off for paying in one lump sum

30-day money back guarantee

Rental car reimbursement: $75/day

Trip protection: $50/day
Membership
The coverage offered by Concord Auto Protect is fairly standard. We like that they – like several of our top selects – pay your mechanic directly rather than reimbursing you. $50 per day for trip reimbursement isn't particularly great, but it's better than nothing, and $75 per day is pretty darn good for rental car reimbursements in the case of a breakdown. They offer 24-7-365 roadside assistance. And all of these benefits are available at every tier, which is a definite plus.
In terms of additional perks and benefits, there really aren't any here, with the exception of the Rapid Response System, which is just about guaranteeing that when you do need them, you can get ahold of them and get repair approvals quickly. Their contracts are transferable, though, which is great and not always offered. Having an extended auto warranty on your used car when you go to sell can help bolster its value. And, if you decide the old thing's better off sold for parts, they'll give you a pro-rated refund based on what's left of your contract.
Claims
We didn't make use of their claims department and they weren't available to answer hypothetical questions while we were performing our test, but we know generally how their claims process would work. In the case of an issue, you'd go to your preferred mechanic – whether you can drive yourself or need to make use of their towing service – then give them your Concord plan info and Concord's contact info. Concord would pay covered repairs directly, while on the phone, with their company credit card.

This actually differentiates them in a positive way, at least from a mechanic's perspective, because they're quick to pay and there's no additional billing process on the back end. It's also, similarly, worth noting that they're a little more flexible than most on where you get repairs done. Concord is happy to work with your local mechanic and will even reach out to create a deal with your preferred shop if they don't already work with them. So, if you're concerned about taking good care of your mechanic, there are a few plusses here.
Cancellation
Lastly, we did go through the cancellation process with Concord, and found it to be about what you'd expect. We made use of the 30-day money back guarantee. They tried to negotiate with us to see if we'd stay, we stuck to our guns, and, eventually, they allowed us to leave. While we didn't love paying a lump sum up front, we were pleased with their policy of giving pro-rated refunds based on how much of your contract is left unused. It's good to know that, should you need to leave down the line, that money wouldn't be lost forever – you only pay for the portion of the service you used.

Pentagon Federal Credit Union (PenFed) is a federally insured financial institution established in 1935. Initially, membership was only open to military and civilian government employees and their families. Today, PenFed is serving over 2.5 million...
Read More
PenFed Credit Union provides online services for credit union members to determine Route 66 extended car warranty eligibility
Offers transparency by including sample Route 66 contracts and policy costs on its website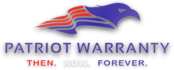 Established in 2007, Patriot Warranty describes its business as providing the highest-rated comprehensive coverage in the industry at the most competitive prices. It also guarantees the highest level of customer service, with the goal of...
Read More
Accepted at all dealerships and ASE Certified repair centers
Coverage administered directly by Patriot Warranty
Designated ASE Certified technicians on staff

Wynn's provides many basic vehicle protection contracts for newer vehicles with up to 120,000 miles. One of the most unique things about Wynn's Warranty is that they offer specific coverage for diesel vehicles.
Simplicity of signup
All coverage options are transferable
Accepted by most dealerships and any certified mechanic, will work with any local mechanic